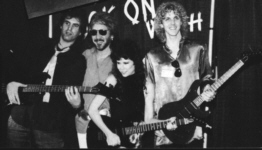 Band-line up :
Peter Criss (drums, lead vocals on track 9)
Jane Booke (lead vocals, rhythm guitar)
"JP" (John Pakalenka) (guitars)
Bob Raylove (bass)


NOTES :
Balls Of Fire would only play 7 shows.
The band would initially replace Peter Criss before they split up.

For the shortest period in the summer of 1986 it seemed that Peter Criss would be back, this time as a member of an upcoming rock band with a female lead singer. Live performances were made in August, with Peter even getting to dig out "Feel Like Heaven" from his past, with the rest being original material. However, the project did not last long, and early September 1986 Peter took up the house husband role to enjoy his daughter Jenilee's growing up.

January 2020 : For more info details on BALLS OF FIRE check the "The not-so-great Balls Of Fire" article at axeologyextended.wordpress.com.


Scan below : News flash taken from Kerrang UK magazine #120 May 1986.