KRR's temporary list of (demo) songs which possibly will be used for
GENE SIMMONS 1966 - 2016 The Vault Experience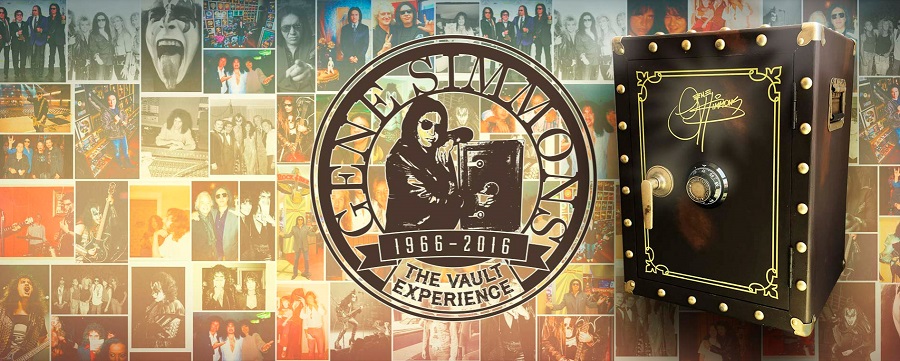 NOTE : this list of demo songs is temporary until the final track list is revealed !!!!

all demo's and song titles listed below are linked from http://www.kiss-related-recordings.nl/gene_simmons.html

all

orange marked

titles are confirmed tracks on Gene Simmons 1966 - 2016 The Vault 10 CD box set

all green marked titles are previously released (KISS Boxset, Love Gun 2CDreissue , and / or various Gene Simmons releases)

all yellow marked titles are already circulating on the internet for years now / all in various sound quality ..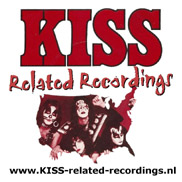 possible a The Lynx / Missing Links demo (1964) ?
possible a Long Islands Sounds demo (1964 – 1967) ?
possible a Bullfrogg Bheer demo feat. Anna Dalva / Stan Singer (early 1968)

Various demo's incl. BULLFROG BHEER / RAINBOW 1968 / 1970 :
- Little Lady
- Put On Your Slippers
- About Her
- Amen Corner
- Feel Lazy Today
- A Reevus In The Eye
- Moon Maiden
- Eskimo Sun
- When I Awoke
- A Story
- Stanley The Parrot (Bullfrog Bheer)
- Leeta (Bullfrog Bheer)
- Chimney Sweeps (Bullfrog Bheer)
- Black Moon June (aka Wicked June)
- Against The Grain
- My Uncle Is A Raft
- I Am A New Man
- A Friars Song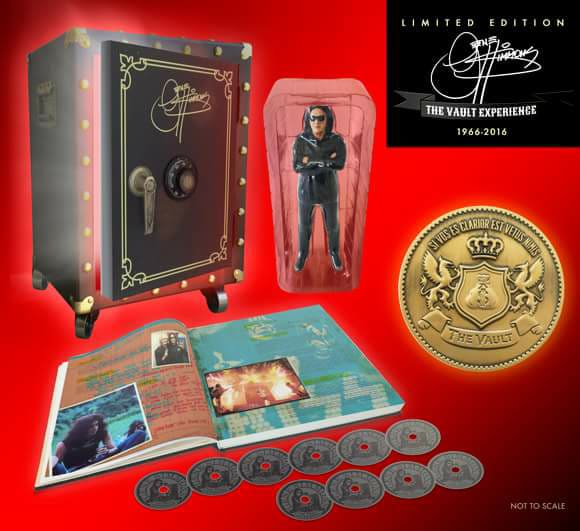 various WICKED LESTER demo's 1972 (incl.) page 1 / page 2 / page 3
- She
- Simple Type
- Too Many Mondays (Gene Simmons;vocals)

GENE SIMMONS / KISS 1973 - 1974 demo's
- Mistake (1974)
- From Where You Belong
- Two Bits
- Girl Who Makes People Smile
- All It Takes
- Dreamer
- Got To Give Me More
- She'll Do It Again
- Baby Let me Go (early version of Let Me Go Rock 'n Roll) (detail)

KISS : Hotter Than Hell period - possible demo'ed songs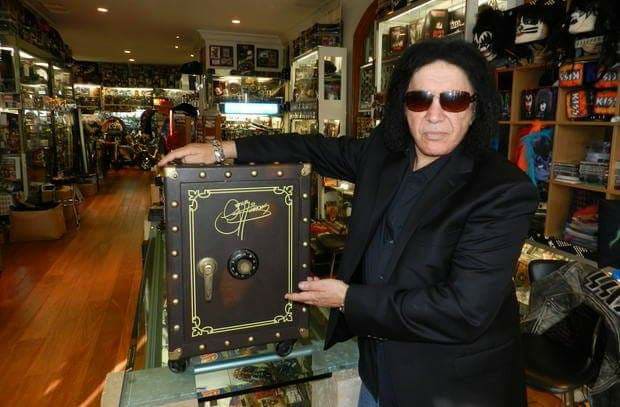 - High and Low (early version)
- Got No Pity
- Ladies In Waiting
- Reputation (very 1st version ??)
- Great Expectation
- Into The Void
- Mr. Miracle
- Kansas City Kitty
- Lady's Blisters
- Non-Stop Express
- Little Preserve Us
- Blood and Guts

Gene Simmons 1974 - 1975 demo's
- Drive Me Wild (demoed)
- Starry Eyed
- Svengali

Gene Simmons 1975 titles written which are not necessarily demoed
- Penny Arcade
- Always Near You
- Back Where You Belong
- Two Bits
- All It Takes
- Daddy Longlegs
- She One Of The Boys
- Seduction Of The Innocent (early version)
- Dressed To Kill
- Wet And Wild
- You've Got Nothing To Live For (early version of Great Expectations)

Gene Simmons 1975 demo's
- Man Of 1.000 Faces
- Rock And Rolls Royce
- See You Tonite
- Mad Dog (with KISS) (detail)
- I'm A Star (with KISS) (detail)
- Love Is Alright(with KISS) (detail)
- Night Fly(with KISS) (detail)

Gene Simmons with The Group With No Name backing vocals 1975 - 1976 (feat. Katey Sagal)
- I Don't Want Your Romance
- Howling For Your Love
- See You In Your Dreams
- True Confessions
- Bad Bad Loving (version 1)

GENE SIMMONS : Studio demo 12" Acetate (1976)
The Master Cutting Room, Inc. No Matrix Code (USA, 1976)
- Rotten To The Core
- Daily Planet (Instrumental)
- Burning Up With Fever
- High And Low
- Jelly Roll (version 1)

GENE SIMMONS : various demo's 1976
- Bad Bad Loving (version 2)
- Mongoloid Man (feat Joe Perry and Michael DesBarres)
- Queen For a Day (written by Simmons, instrumental demoed by KISS for Ace Frehley's vocal debut) (detail)
- Sweet Pain : instrumental studio rehearsals / short outtakes (detail)

GENE SIMMONS demo's with Alex and Edward van Halen (1977)
- Have Love Will Travel (Got Love For Sale)
- Christine Sixteen
- Tunnel Of Love

GENE SIMMONS various 1977 demo's
- Love Came To Me
- Fourever
- Love Is Blind
- Reputation (version 1)
- Much Too Soon
- Plaster Caster
- I Know Who You Are
- Got Love for Sale

GENE SIMMONS various 1978 demo's
- Radioactive
- Heartthrob
- Vampire Of Love
- One Hump Or Two
- Doin' The Do
- Tease You Please You
- Sacrifice
- Sole Survivor
- Don't Make Me Do It To Myself
- Just Give Me Love
-Tunnel of Love

GENE SIMMONS 1978/1979 demo's with Chuck Billings and Tom Moody (of VIRGIN)
- I Have Just Begun To Fight
- Reputation

GENE SIMMONS : 1980
- Master Of Flash
- Queen Of My Nights (with Peppy Castro) confirmed

GENE SIMMONS 1981 demo's
- Feel Like Heaven
- Reputation (with Eric Carr drumtrack)

GENE SIMMONS 1982 / 1983 demo's
- It's Gonna Be Alright (with Mikel Japp & Mitch Weissman)
- We Won't Take It Anymore
- Anyway You Slice It
- While The City Sleeps
- Chrome Heart
- Chrome Goes Into Motion (a Gene Simmons / Adam Mitchell collaboration) (detail)
- Eye Of The Storm (1982 with Mikel Japp) (detail)
- Something Seems To Happen At Night
- It's My Life (1982)

GENE SIMMONS 1983 demo's
- So Many Girls, So Little Time
- Legends Never Die (instrumental recorded by KISS, later used for Wendy O Williams) (detail) / (The Vailt detail)

GENE SIMMONS 1984 demo's
- Sooner Said Than Done
- Keep Your Tail Between Your Legs
- Daily Planet (version 2)

Gene Simmons 1984 - 1985 demo's
- What You See I What You Get (with Mich Weismann) actually a different version of "It's Gonna be Alright" (SMASHED GLADYS)
- Eat Your Heart Out (with Mich Weismann) the version on The Vault list it as 1977/1978 ??

Gene Simmons Asylum 1985 demo's (some songs are recorded earlier, see above !!)
- Hello Hello
- Nobody's Perfect
- Nobody's Perfect (instrumental)
- Russian Roulette
- Secretly Cruel (1981)
- Take It Like a Man
- untitled instrumental
- Reason For Living (early version, with Mich Weismann)

Gene with Steven van Zandt at RCA studios New York City / Almost Live - Richard Belzer Radio
- Midnight Hour (recorded live)

GENE SIMMONS "Never To Young To Die" song 1985
- It Takes A Man Like Me To Be A Woman Like Me

Smashed Gladys demo 1985
- Dream Away Heartache
- Give It All You Got (Smashed Glady's version of Gene Simmons "It's Gonna Be Alright")

GENE SIMMONS demo's 1987
- No Mercy / Have Mercy Baby (with Bruce Kulick)
- Are You Always This Hot (with Adam Mitchell)

GENE SIMMONS demo (1988-1989)
- Rotten To The Core (with Lita Ford)
- Rotten To The Core

GENE SIMMONS H.I.T.S. 1988 - 1989 demo's
- Street Legal
- Something Wicked This Way Comes (The Vailt detail)
- Betrayed
- The Street Giveth And The Street Taketh Away

Demoed with Sleeze Beez 1991
- Jealous Woman

GENE SIMMONS demo's recorded with SILENT RAGE (1991 / 1992)
- You're My Reason For Livin'
- Rain Keeps Fallin'
- Hold On
- Rotten To The Core #3
- Never Gonna Leave You #2
- City Burn

GENE SIMMONS with Bob Dylan 1992
- Laughing When I Want To Cry
- Everybody Needs Somebody

GENE SIMMONS 1993 / 1994 demo's
- Island Of Lost Souls

- Rain Keeps Fallin'
- Machine (with Jesse Damon)
- Seeing Is Believing (with Jesse Damon)
- unknown / untitled (with Jesse Damon)
- Vengeance Is Mine

GENE SIMMONS 1993 - 1995 ?? demo's with Ken Tamplin
- Juliet - Simmons/Tamplin (The Vailt detail)
- Hey You - Simmons/Tamplin (The Vailt detail)
- I Confess - Simmons/Tamplin (The Vailt detail)

GENE SIMMONS 1994 demo's with Scott Van Zen
- In My Head (The Vailt detail)
- Carnival Of Souls (The Vailt detail)
- Hate (The Vailt detail)

GENE SIMMONS 1997 - 1999 Psycho Circus demo's
- In Your face (alternate take)
- I Want To Rule The World
- Weapons Of Mass Destruction
- Sweet and Dirty
- You Are Mine
- I Only Come Out At Night
- I Had A Dream
- Night Screams
- Twin Lies
- I am Yours
- Temptation
- Grease & Grime
- 7th Heaven

GENE SIMMONS and Matt McCormack 2002
- Pride

GENE SIMMONS working demo's 2002
- Wait (The Vailt detail) (not sure if this is the same one entitled "I Wait" as it is on disc 01 onThe Vault)
- All The Kids With Painted Faces

GENE SIMMONS 2003 demo ?
- Everybody Knows
- Looking Out The Window

GENE SIMMONS 2004 "Asshole" promo sampler(s)
- Sweet & Dirty Love (alternate version)
- Waiting For The Morning Light (alternate version)
- ***hole - radio edit
- ***hole - sheep edit

GENE SIMMONS & BAG 2006
- I'm Indy
Other titles listed on KISSfaq and/or Julian Gill
- Are You Ready (written for "Monster" 2011) (The Vailt detail)
- Piece Of The Rock (written with Robert Fleischman)
- You Wanted The Best (Demo)
- Weapons
- Your Wish Is My Command (w/ Ace)
- Turn To Stone (The Vailt detail)
- Hand Of Fate (The Vailt detail)
- Hunger (The Vailt detail)
- Are You A Boy, or Are You A Girl (The Vailt detail)
- Say You Don't Want It (The Vailt detail)