(EUR CD 246) released 1999 by Rock Hard Records
LABELS :
USA : Rock Hard Records - compact disc - EUR CD 246
Japan : Zain Records - compact disc - ZACB-1023 (Released: November 24th, 1999)

Europe / USA : Spitfire Records - compact disc - 5099-2 (reissue 2000)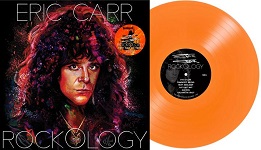 USA : therockologists.com - standard version - orange vinyl LP (including a four page booklet full of rare photos and liner notes, an exclusive hype sticker, Standard version Rockology card and an Eric Carr merchandise sheet and a bonus Rockheads collector card). The standard version is limited to only 500 copies. (shipping December 2019)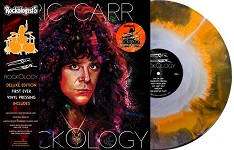 USA : therockologists.com - "RockRelix" Version One and Version Two ;
both be pressed on a stunning Orange, Black and Silver Starburst vinyl and includes a Custom OBI, custom hype sticker, four page booklet full of rare photos and liner notes, a "RockRelix" version Rockology card specific to version one, a Rockheads collector card, and Eric Carr Merchandise sheet. Each of the two version will be limited to only 250 copies total. (shipping December 2019)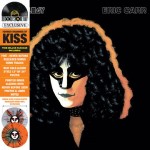 USA : Record Store Day Exclusive 2LP Release - April 22, 2023
Label: Culture Factory USA / Quantity: 4000 ( recordstoreday.com/SpecialRelease/ )
This package was designed and mastered along with Loretta Carr (Eric's sister) to fall in line as the 5th KISS solo album. The cover is Eric in his "Fox" make up, the 12" by 24" poster is in the same style of the original 4 solo KISS releases. Printed inner sleeves include never before seen photos & liner notes. The vinyl is an orange/clear/black splatter with "Fox" record labels. The 2nd LP features 5 never before released demo tracks. All extras are noted on the packaging OBI side spine. This is a MUST for fans/collectors of KISS. 1st Orange, Clear & Black Swirl & 2nd Black, Clear & Orange Swirl Color Vinyl and one 12" by 24" lobby poster
Tracklist : Eyes of Love | Somebody's Waiting | Heavy Metal Baby | Just Can't Wait | Mad Dog | You Make Me Crazy | Nightmare | Nightmare (Live demo) | Too Cool For School | Tiara | Can You Feel It | Nasty Boys | Tiara (Long Demo) | Can You Feel It (Alternative version |

musicians :
Eric Carr (lead vocals, drums, guitars, bass, keyboards)
Bruce Kulick (lead-guitar)
Adam Mitchell (keyboards)
NOTES :
Produced by Bruce Kulick.
Co-Produced by Eric Carr and Adam Mitchell.
Mixed by Bruce Kulick.
Mastered by Don C. Tyler at Precious Mastering, Hollywood, CA.
Recorded between 1986 - 1989




Track 01 : "Eyes Of Love", originally "Looking Through The Eyes Of Love" was one of the four songs Eric Carr brought to KISS "Hot In The Shade" sessions.

Track 02 : "Somebody's Waiting" (aka "Someone Is Waiting") was one of the four songs Eric Carr brought to KISS "Hot In The Shade" sessions.




Comments by Bruce Kulick (1999) ;

Eyes Of Love ; This (1989-) demo was done after a more primitive version was recorded on a 4-track. Eric sings his heart out and does all the vocals, drums and bass. I play guitars and, because I never got to do it back in 1989, overdubbed the solo in 1999.

Somebody's Waiting ; An Ultimate Eric ballad from 1989. This demo has Eric playing bass and drums, with me playing acoustic, lead and rhythm guitars. I recently overdubbed the solo in the spirit of 1989.

Heavy Metal Baby ; This 12-track demo (1989) has no real words. Eric scat/sang on this track to give us ideas for lyrics. They were never completed but the production is still strong with Eric on drums (programmed drum machine) and me playing guitars.

Just Can't Wait ; This is the 12-track demo of a very arranged song from 1987 that was never finished with vocals. The chorus was Eric's idea, and Adam Mitchell and I worked it out with him. We added acoustics and some keyboards that were played by Adam.

Mad Dog ; a 12-track demo from 1987 that still rocks!! Eric's on drum machine and bass and I'm on guitar. Great Chorus that's missing dog barks that we were planning to put on the fade of the track. Only a cassette copy of this song exists.

You Make Me Crazy ; Originally called "Van Halen" for its influence, this is a cool track that exists only on a cassette, too. Eric is scat singing and playing drum machine and bass. I play guitars and had a blast with the solo.

Nightmare / Nightmare (live demo) ; This song, from early 1987, had a great potential and only these work tapes exists. The first more developed version has Eric scatting vocals and playing drums. In the second version, you can hear Eric on acoustic guitar playing and tapping the beat and I'm on electric guitar. Towards the end the end of the arrangement, the tape recorder dropped and we had quite a laugh about it. Eric always felt strongly about this song but it never quite got finished.

Too Cool For School ; This first song, created for Eric's cartoon-show band "The Rockheads", shows their attitude and Eric's alter ego coming through in the lyrics. Deals with school yard rejection and, of course, trying to be cool ! Eric had no problem being cool.

Tiara ; Beautiful love song written by Eric on keyboards. He played the keys to a drum machine loop with reverb that makes a hypnotic effect. Eric sings his heart out and the girls that got to know him remember what a romantic man he could be.

Can You Feel It ; A rocker that Eric waits on. We would have loved Bryan Adams to cover the song! Eric programmed the drums and played bass. I played the guitars.

Nasty Boys ; Very defining song for The Rockheads showing their rebellious nature...... Eric's on drums and bass and I covered the guitars. Lots of fun to record and we would have loved to play this one live.