ACE FREHLEY
Spaceman

Released : October 19, 2018
Produced by : Ace Frehley
Time : 37:07


| | |
| --- | --- |
| 01 Without You Iím Nothing | (4:06) Frehley / Simmons |
| 02 Rockiní With The Boys | (4:15) Frehley |
| 03 Your Wish Is My Command | (3:38) Frehley / Simmons |
| 04 Bronx Boy | (2:50) Frehley / Mancuso |
| 05 Pursuit of Rock and Roll | (4:32) Frehley |
| 06 I Wanna Go Back | (4:01) Byrom / Chauncey / Walker |
| 07 Mission To Mars | (3:39) Frehley/ DiBenedetto/ Gullic/ Kunzman |
| 08 Off My Back | (3:38) Frehley |
| 09 Quantum Flux (Instrumental) | (6:28) Frehley |



LABELS :
USA : Entertainment One - silver vinyl LP - EOM-LP-46034
USA : Entertainment One - neon blue vinyl LP - EOM-LP-46060
USA & Canada : Entertainment One - orange vinyl LP - EOM-LP-46059
USA : Entertainment One - compact disc - EOM-CD-8773
Europe : Entertainment One / SPV - violet vinyl LP + compact disc - SPV 778161 LP
Europe : Entertainment One / SPV - compact disc digipack - SPV 778162CD
Japan : Entertainment One / Victor - compact disc - VICP-65499

Also Available at iTunes https://itunes.apple.com/us/album/spaceman/1422898114

USA : MNRK Heavy - audio cassette in 5 music cassette boxset
(limited edition of 1.000 copies, released October 27, 2021)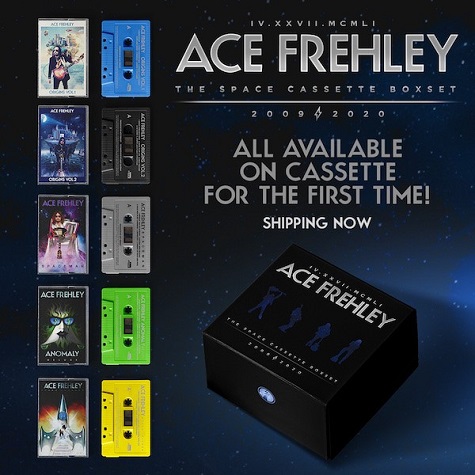 musicians :
Ace Frehley (lead and backing vocals / guitars / bass; except on track 01, 03, 06, 09)
Gene Simmons (bass on track 01)
Alex Salzman (bass on track 03, 06; backing vocals on track 02, 03, 04)
Warren Huart (bass and guitar on track 09)
Scot Coogan (drums on track 01, 03, 04, 07; backing vocals on track 03, 04)
Matt Starr (drums on track 02, 06, 09)
Anton Fig (drums on track 05, 08)
Ronnie Mancuso (guitar on track 04, 07)
Rachael Gordon (backing vocals on track 02, 03)



NOTES :
Produced by Ace Frehley.
Co-produced by Alex Salzman, except "Quantum Flux", co-produced by Warren Huart.
Recorded at Ace In The Hole Studios.
Recording Engineer (except track 09) : Alex Salzman.
Recording Engineer (track 09) : Warren Huart.
Warren Huart's assistant Engineer : Hayden Cluff.
Mixed by Warren Huart at Spitfire Studios L.A.
Mixing Assistants : Eric Gonzalez and Andrew Perez.



Extra NOTES (by Julian Gill / Kissfaq.com) :
Track 01 : "Without You Iím Nothing" was an incomplete song brought in by Gene Simmons for Ace Frehley to finish for the album. Gene played bass on the recording.

Track 02 : "Rockiní With The Boys" is the alleged title of a song Ace Frehley is supposed to have written in the post-Elder period, as mentioned in a Kerrang article during 1982: "While the last few months have been fairly traumatic for Ace, and no doubt wife Jeanette, he's still managed to come up with some new songs, seeming particularly pleased with a freshly written opus called 'Rockin' With The Boys' (a typical Ace title - no concept here!)"
(Kerrang #32).

Track 03 : "Your Wish Is My Command" is a complete song brought in by Gene Simmons, who also plays bass on the demo recording.

Track 04 : "Bronx Boy" is the first single from the album, released on Apr. 27, 2018.

Track 05 : "Pursuit of Rock and Roll", Ace Frehley has previously mentioned that this was one of his rejected songs from the "Psycho Circus" album as "Life, Liberty, & The Pursuit of Rock & Rolll". It was apparently too similar in lyrical ideas to a couple of Paul's songs. This may be an update of that demo...

Track 06 : "I Wanna Go Back " is originally written and recorded for Billy Satellite in 1984, but later covered by Eddie Money.



Extra NOTES 2 (from Guitar World - November 2018) :
In an interview with Guitar World Ace Frehley revealed that he recorded a song with current KISS drummer Eric Singer that didn't make it onto his new solo album Spaceman.
Frehley was asked about his instrumental song "Quantum Flux" and ended up talking about the track he recorded with Singer when he stated: "Yeah. When it comes to my instrumentals, I don't really think about them too much. I just play something and try to make it evolve into something else. And you know, I had also recorded a blues song with [current Kiss drummer] Eric Singer for this record, and that turned out well. But when I was picking songs, I'm kind of superstitious, and 40 years ago my 1978 solo album came out and that had nine songs, so I wanted to limit this one to nine songs, too. So it came down to the instrumental or the blues song and I ended up dropping the blues song. Because every album I've ever released has had an instrumental on it. So that was the thinking behind that. But you know, the blues track may end up on a bonus edition."
You can read the entire Ace Frehley interview at Guitar World.