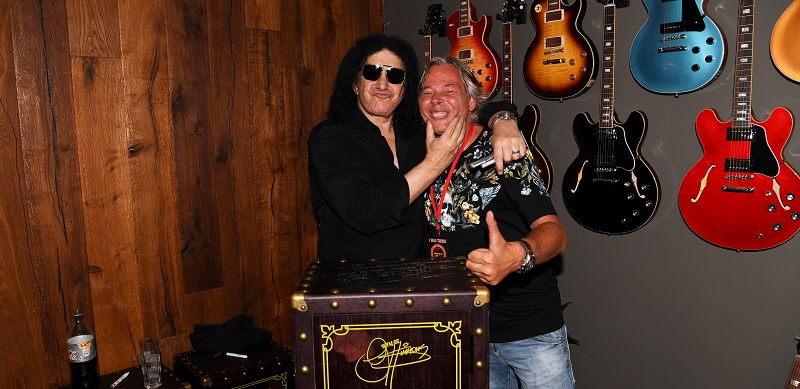 July 2018 : KRR's review of 2 Gene Simmons Band concerts and 2 Gene Simmons Vault Experiences

I probably had the best summer holiday ever. For the first time in my life I took 2 weeks off work with temperatures from 25 up to 30+ °C (77 up to 86 F), no rain, but all sunshine and blue skies …
Back at work, this hot summer is the reason that it took so long to write a sort of review of both Gene Simmons Band concerts and the two Gene Simmons Vault Experiences I attended.

From the moment Gene Simmons started his solo band last year, and after watching YouTube-clips, I was impressed with the setlist, his and the band's enthusiasm during all the performances, as well as the way Gene seems to be approachable to his fans … and seeing he's enjoying it.
Sure, since I 'discovered' KISS early 1977 I always preferred most of Paul Stanley's songs above the ones by Gene Simmons … but with Paul struggling with his voice as well as his 'hiding personality' since the 90's, my respect to Gene Simmons is still growing …. So when the tickets for the concerts in Tilburg (The Netherlands) and Oberhausen (Germany) went on sale halfway December 2017 there was doubt to go …

Same counts for The Gene Simmons Vault box set … , Sure, $ 2000,- (€ 1718,-) is a lot of money, but the songs on The Vault are exactly the KISS stuff I personally do collect since the release of Wendy O'Williams 1984 album. So somehow/someway I needed to get my hands on "The Vault".
Since 2004 (Speaking Of Tongues DVD) Gene Simmons was talking about his upcoming box set.
In 2006 it seemed Gene Simmons was close to finish his "Monster" box set, but it took 12 more years before the final product saw the light of day ….

Anyway, at the very beginning, Amsterdam was listed at the Gene Simmons The Vault Experience announcements … Soon after Amsterdam was removed …. I still doubted about going to Frankfurt, and in between I still wasn't sure about keeping my job … but from one moment to another December 2017, Amsterdam was planned for July 22, 2018 – Thank God, together with a unexpected financial bonus …
The same week a friend gave me call suggesting to book Amsterdam, while he already had booked Frankfurt March 18, I'd be joining his Vault Experience in Frankfurt * and he'd be joining mine in Amsterdam. In just 2 or 3 days everything fell into place to a simple Win-Win situation …
* (The March 18 Frankfurt Vault Experience was cancelled at the last moment due to health issues affecting Gene Simmons while he was in London March 17. We got a phone call from Rikk just an hour before we arrived in Frankfurt the day before The Frankfurt Vault Experience.)

July 19, 2018 : Gene Simmons Band at 013, Tilburg, The Netherlands
Together with a couple friends (better to say the bad boyzz 'round me) I went to the Gene Simmons Band at 013, Tilburg, The Netherlands. To skip an opening act nobody was interested in, we first had a few beers at our hotel …, so we were a little late, but right on time to see GSB.
The concert wasn't sold out, but the venue looked packed. At the beginning there was no way to get up front …. (we thought). Gene Simmons and his solo band looked and sounded fresh, full of enthusiasm, and from time to time I realized how good Gene's voice still is compared to Paul Stanley's nowadays.
Early in the set a 14 year old kid joined the band on stage for "Parasite", and before turning into the regular guitar solo, the band gave him a spot to show his skills with an instrumental (bridge) jamming part halfway the song.
To me "All The Way" is just a good KISS song I forgot about, but with this band and this song it felt like everything in me went back in time ,,, memories from my youth were flashing through my head …. while my body went on to the rhythm and lyrics of the song …. I'm sure this didn't happen when "All the Way" was played during KISS ' Alive 35 Tour years back … Maybe it was the alcohol in me. After that song I realized that one of my friends was 'missing' … We were standing next to the bar, but he wasn't there to order new drinks … When I watched up front I saw the ladies went on stage to join the band for "Do You Love Me" … Between all those girls and the band I saw my 'missing' friend … a little misplaced, but he stayed there a little in the back while the band first played "I Was Made For Lovin' You" with a woman singing. I'm not sure if this song was performed spontaneous or already planned. It looks like our friend was hiding behind all the ladies, but when Gene Simmons wanted to introduce "Do You Love Me", I saw him standing between the drums and the backline, while I heard "Jelle, Robert .. " coming out of the speakers twice (using drummer Brent Fitz mike), Gene tried again, my friend mentioned his girlfriend's name, Gene Simmons turned back to the drum set, and my friend reacted by saying "Sorry Gene" …. It's always fun having friends like him… , something will happen, that's for sure.

"Jelle, Robert .. " coming out of the speakers twice (10th second)
and "Love You Louise" - "Sorry Gene" (33rd second) - during introducing "Do You Love Me" ..

To me Gene's introduction to "Charisma" was also fun, Gene yelled to Shannon (who was standing on side of the stage) like she was standing in the kitchen … "Shannon !! … , Shannon !! … You hear that Shannon !!, It's My Charisma !! …
Another surprise was the performance of "I", sure KISS played the song at the KISS Kruise a couple of times, but with this band all sharing lead vocals (except for the drummer Brent Fitz) it turned out very good. Near the end of the show my friends and I went up front to come on stage to join the band for "Rock 'n Roll All Nite". From the moment I was on stage Ryan and Jeremy immediately yelled my name Jel-léé … followed with some warm welcome hugs .. cool they still recognize me after a couple of years, realizing they've seen so many faces …. During the song it felt like an intoxication of spontaneity … everything seemed to go automatically while singing … after the guitar solo I went back to my mike when I saw Shannon on side of the stage .. For a moment I was thinking to take her on stage …. but I wasn't sure if she'd allow me to take her arm, haven't seen or spoke to her since 2014 …. So maybe she would think "who's that idiot" …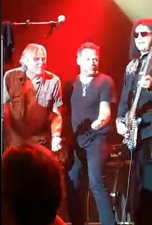 on stage with the Gene Simmons band "Rock 'n Roll All Nite"

July 20, 2018 : Gene Simmons Band at Turbinenhalle, Oberhausen, Germany
The next and last concert of Gene Simmons Band mini European tour was in Oberhausen, Germany.
While the summer was already hot this year, inside the venue Oberhausen's Turbinenhalle (an old big factory build in 1920) it was extremely hot. No airco-system !! I originally planned to see a glimpse of UK Rockers THUNDER (their "Dirty Love" is one of my fave songs), but with the high temperature inside the hall I decided to stay in the smoking area outside the building.
It was cool to see and meet so many international friends prior and after the GSB concert.
During the concert we had a good spot near the front at the right side (Jeremy / Ryan) of the stage. The setlist was nearly the same as the one in Tilburg, except that some songs were played in different order. Both night GSB played parts of "She's So Europan", "Domino" as well as the Little Richard cover "Long Tall Sally", but Oberhausen got 5 extra songs "Unholy (partial)" , "Love Theme From Kiss", "Ladies Room", "Almost Human" and "Goin' Blind" … Near the end of the regular set Jeremy even threw away Gene's setlist papers …
After the concert I had a small meet & greet with the band, again with a warm welcome from Ryan and Jeremy, as well as from the rest of the band and around … which made Gene say the funny words "Who's this guy, everybody seems to know him, but me." (probably he had seen too many faces, but he'll find out 2 days later …)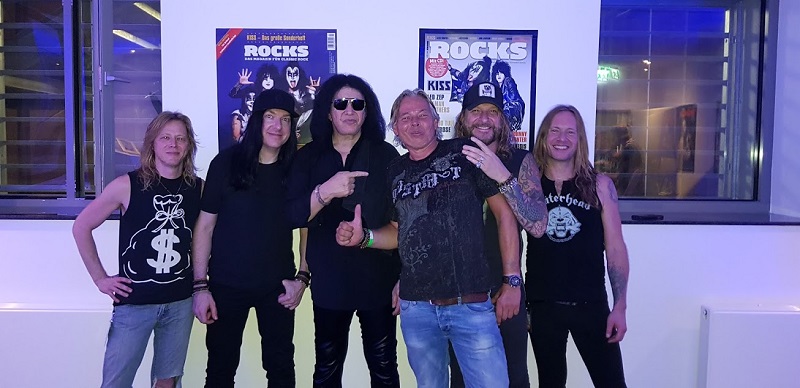 with the Gene Simmons band L-R: Jeremy Asbrock, Brent Fitz, Gene Simmons, me, Ryan Cook and Phil Shouse

July 22, 2018 : Gene Simmons Vault Experience, Amsterdam, The Netherlands
On Sunday July 22 I had my Vault Experience at the Gibson Room, on the 10th floor of the Amsterdam Tower. Have to say that Marco Marco and Mark Laurentz did a great job organizing the whole event at probably the best location and site of town of all Vault Experiences so far … (except for the Capitol Records building … maybe ?).
My guest for The Vault Experience was much smarter than I. While I was hanging out and talking he already took the elevator to arrange a good spot for me, front row, directly in front of Gene Simmons himself. Thank You mate !!
Gene Simmons started the Vault Experience the regular way, playing parts of "My Uncle Is a Raft", telling the story behind the song, but soon after some jokes around the meaning of the word "pick" and learning a few Dutch "G-words" (partly from me). It seemed that Gene Simmons departed from his standard way of performing the same songs (partial) to introduce "The Vault" …
For example he learned us how to use our tongues while doing the alphabet … go imagine for yourself.
By request he played parts of "Mr. Make Believe" as well as an early version of that song having a different title ("One More Chance" which is on The Vault), while telling the story behind the song.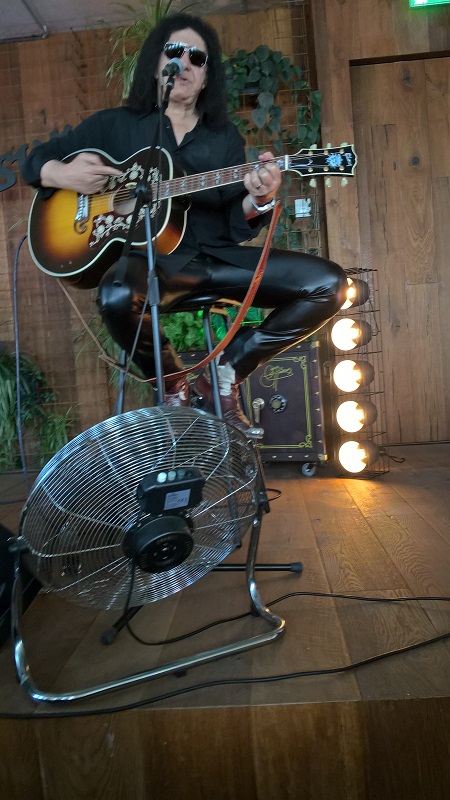 by request for Silvy Roos : "Mr. Make Believe" (starts 02:45)

Halfway the set Barry Hay (singer of Dutch band Golden Earring) joined in, jokily sharing stories from the seventies when KISS was opening for Golden Earring in the USA. Also the animated television series "My Dad the Rock Star" was mentioned. (Barry Hay did the voiceover of "Rock Zilla" for the Dutch version of the series).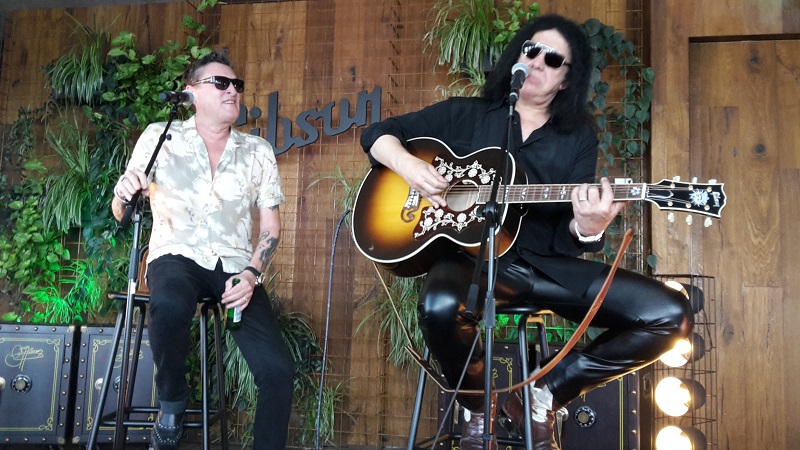 Barry Hay (never to early for a beer) and Gene Simmons

In case of my personal "Gene Simmons The Vault Experience" I was number 22 out of 45.
It wasn't necessary to stay in line, so there was plenty of time to chat with friends, have a drink, etc. When it was time for my Vault Experience it felt like something was going to happen.
In some way I was prepared, knowing what to ask… but that immediately turned away after knocking Gene's fist to say Hello … I was expecting he would sign The Vault first so I could start asking my questions.
I know Gene Simmons knows about www.kiss-related-recordings.nl, so I was ready to ask questions related to my website. I didn't expect him to sign my Gene Simmons Moneybag Luge Roller (which I use for daily work) first.
So that made me a little nervous starting the conversation, which made me decide to joke around with some "G-words" again.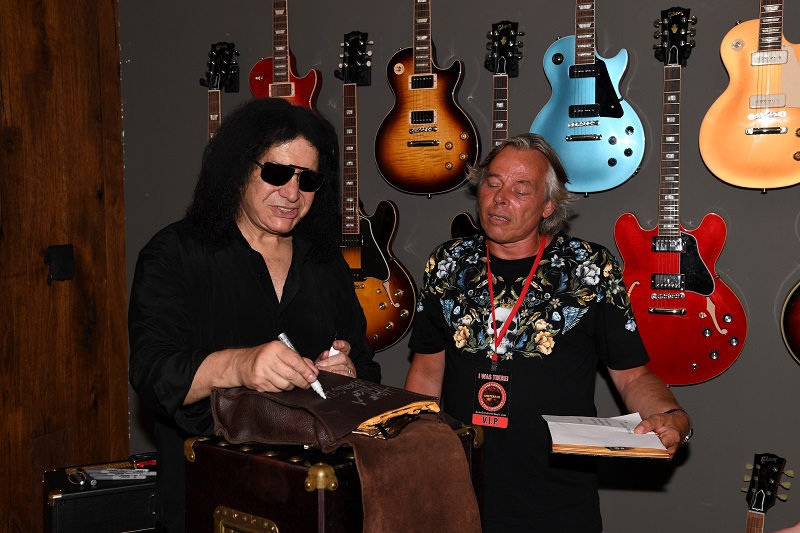 signing my Gene Simmons Moneybag Luge Roller

Luckily thereafter Gene start signing "The Vault" so we could talk about "Kiss Related Recordings".
My first question was about co-writers I know Gene Simmons demoed with during the early 80's, whose songs are not on The Vault. Gene gave his explanation which answer surprised me a bit. I quickly asked him if he already had contact with Anna Dalva who was in one of Gene Simmons' pre-KISS bands Bullfrog Bheer* .
July 2017, using his facebook and twitter account , Gene Simmons asked for help to find people he have worked with during the years, so Ole Peko Sørensen (of KISS bands tree) and I responded. A day later we found out our answers and suggestions were buried by hundreds of reactions not related to the question.
Gene Simmons thought that Anna Dalva already passed away, which is not true I responded. From one moment to another Gene Simmons picked a guitar and played us "Movin' On", explaining that the chords came from Anna Dalva.
(Note : The song is also performed by Rainbow (1971) and appeared on the Wicked Lester August 7, 1971 reel to reel tape Paul Stanley found recently). After the song Gene finished signing "The Vault", mentioning W.O.W. "It's My Life", which album was the main reason for me to start collecting KISS Related album releases …
Afterwards Gene signed the page of The Ltd Ed. Family Jewels 2004 box set, whose book includes a 2 track CD from 'the upcoming' Gene Simmons "Monster" boxset … as well as 2 oversized photo posters for my guest. |
At the End , I can easily say that my Gene Simmons Vault Experience turned out to be very special !!

| | |
| --- | --- |
| | |
| Gene Simmons picked a guitar and played us "Movin' On"by Bullfrog Bheer | pre The Vault - "Monster" (2006) |
video camera 1 : see my full Gene Simmons The Vault Experiences - Amsterdam July 22, 2018 (9 min.)
video camera 2 : see Gene Simmons performing "Movin' On" - Amsterdam July 22, 2018 (1 min.)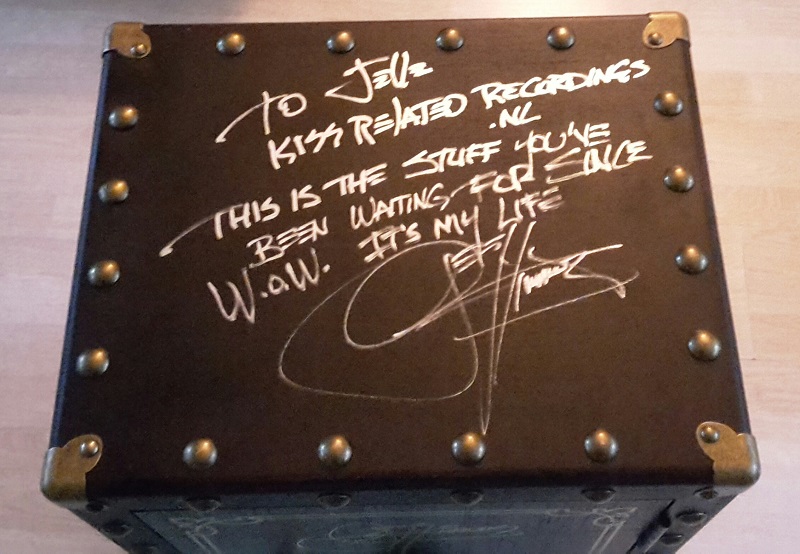 Back home I checked my personal gifts in The Vault, but also wanted to contact Anna Dalva … That night I uploaded the video of My Vault Experience on YouTube and shared the link to Anna Dalva with a few lines …

* Anna Dalva vs. Bullfrog Bheer
Late 1967 / early 1968 Anna Dalva (guitar / vocals) was in the first line-up of BULLFROG BHEER, together with Gene Simmons (bass / vocals) and drummer Stan Singer.
At the time Anna was only 16 years old, while Gene Simmons was a teacher in upstate New York.
Bullfrog Bheer had rehearsals at Anna Dalva's parents garage. According to Anna Dalva, Gene slept on her couch for about a year and called his mom every night to talk to her in Hebrew. Anna's mom didn't allow her to tour with the band, so soon after Anna was replaced by Steve Coronel late 1968. Later on Anna Dalva wrote for Motown, and is still writing today, currently finishing her book.

Anna Dalva (2017)
July 24, 2018 : Gene Simmons Vault Experience, Frankfurt, Germany
The next morning - Monday July 23 - I had to pick up a friend, who joined me at my Vault Experience in Amsterdam. In return I was his guest at the Frankfurt Vault Experience at the Roomers hotel, Frankfurt, Germany. We arrived the night before The Vault Experience to meet and drink with some friends we already knew and/ or made at the cancelled Vault Experience a few months earlier. The next day the whole Vault Experience was much different compared to the one in Amsterdam, First Gene Simmons acoustic set was planned outside in a tent on the terrace behind the hotel. Due to the summer heat the set was moved to the restaurant inside … which was a little dark… I'm not sure, but my feelings is that the acoustic set was little shortened because of the delay. Special guest by the end of the set was Doro Pesch . Because we were staying at the hotel for 2 night we choose to be the last to do The Vault Experience (number 57) … Because it was my friend's Vault Experience I stayed a little in the back, trying to be quiet … My friend asked Gene a good question about the 1991 ("Revenge"-) demo recording "I Wanna Live" with Vinnie Vincent. Gene Simmons answered that they both recorded about 10 songs more which are all much heavier …. When it was my turn to let Gene Simmons sign some stuff I told him I did contact Anna Dalva, telling him she is 70 now … (which was wrong, she's in her 60's), as well that she still have Bullfrog Bheer tapes … and again the "G-words" during the photo shoots ….


Gene Simmons The Vault Experience Frankfurt, Germany July 24, 2018 (edited video)

After the whole experience was over I went back to Gene Simmons to make sure he'll contact Anna Dalva … Showed him her Instagram account on my phone and got a business card of his project manager Keith Valcourt.
I few hours later I got Anna Dalva's phone number, whose info I mailed the next day … A few days later I got a couple of messages from Anna letting me know that Keith phoned her, and the next week she got an email from Gene Simmons, who found out (using Google) that Anna Dalva was a boat racer during the 90's …. I didn't even know that !! It's cool to realize they're back in contact with each other after 50 years !!!
| | | |
| --- | --- | --- |
| | | |
| having fun with Gene Simmons (see twitter) | signed item 1 | signed item 2 Me, Inc. book |
Is it worth the bucks ?? !! For me as a collector of all Kiss related music including demo's … YES !!
On the other hand – besides the costs - the The Vault probably is not meant to be for the masses, meaning, in my opinion the same KISS fans who're complaining that the "The Vault" is too expensive would also complain when they've bought this box set for a regular price (or even worse after downloading), now with the words that the quality of the songs are not good enough compared to KISS, whatever ….

So far I've played The Vault discs about 2- 4 times each, while reading the book.
I remember when I first got my hands on a tape called "Gene Simmons Asylum demo's" (tape trading). It must have been 1989, around the time Paul Stanley did his solo tour …. That same (proud) feeling I have now while listening to The Vault, as well as realizing that fewer songs from that tape are on The Vault … Sure, some Gene Simmons related demos are circulating on bootleg albums since the late 80's, as well as on the internet … But the versions on The Vault are much different ("Feels Like Heaven" for example) … As Gene Simmons explained earlier (as well as in the book), a lot of his songs are not suitable for KISS… You can probably make one or two KISS albums out of The Vault, as well as a heavier disc sounding somewhere between KISS' "Carnival Of Souls" and his "Asshole" album. Some of his 60's recordings on disc 11 reminds to Peter Criss' Chelsea demos.
In between there's a lot of stuff that surprises me, sure many demo's from the 70's and his 78 solo album.
Or what about the 1979 demo of "Only You", which sounds more like a Rockin' Foreigner song compared to the version on "Music From The Elder"… I also like to mention "Got Love For Sale" (original title "Have Love Will Travel"), one of the 3 songs on The Vault recorded with the Van Halen brothers … You'll immediately recognize Edward van Halen's guitar sound when it starts … Also a lot of Beatles inspired songs which will never make it on a KISS album, while some of them will fit on a E.L.O. album …
I suggest to listen to The Vault with somebody who started his interest in music with KISS, then lost interest while discovering new bands, and who knows something about music and writing songs…I did that recently with half of the discs, and you'll be surprised what you'll hear together instead of listening alone …

I'm not sure if it is mentioned in the book or if he told us recently, but Gene thinks he's not a real songwriter ... Probably this is the first topic Gene Simmons is a little modest on ... I think he's a good songwriter ("See You Tonite"). Okay, maybe not in a way like Bob Dylan .... but more Beatles inspired ... and he's able to write good 3 minute songs ....

Ever realized how many voices Gene has, which he's still using today without struggling ?
I just did, seeing the electric shows, his acoustic sets (especially when he performed "Mr. Make Believe") … and with The Vault ???

I don't like to make promises I can't keep, but I'm still thinking of doing a song by song review for the KRR website …

Jelle Jansen.

Thanks to Gene Simmons, Keith Valcourt, Mark Laurentz, Marco Marco, Rikk Scholvinck, Stefan Schipper, Alexx Michael, and Arjen Alkemade.