(NBLP 7149) released 1979 by Casablanca Records
LABEL :
USA : Casablanca Records - NBLP 7149


musicians :
Lenny (Michael McKean) - guitar, harmonica, vocals
Nigel Tufnel (Christopher Guest) - guitar, clarinet, vocals
Ming The Merciless (Don Poncher) - drums
Lars Svenki (Murphy Dunne) - keyboards, vocals
Squiggy (David L. Lander) - squigophone, vocals
Dwight Knight (Steve Benderoth) - bass, vocals
Jay Seigel - background vocals



NOTES :
Produced by Dave Appell and Hank Medress
Associate producer : Steve Benderoth
Recorded live at the Roxy in Hollywood, CA.
Extra NOTES :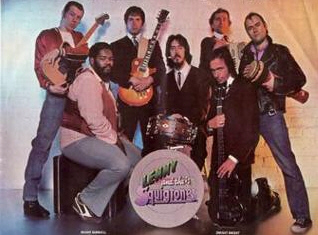 It's a little known fact , but for a long time it was supposed that it was KISS drummer Peter Criss on the photo (center >>) without his famous "cat" costume and make-up, though Peter Criss denies it was him. He was credited as a drummer named "Ming The Merciless" even though he didn't play on the album. None noticed back then, until 2002, after it was mentioned in the KISS Book "Alive & Forever" (by Curt Gooch and Jess Suhs).
In 2012 Michael McKean responded on his twitter that "Peter Criss was nowhere near this project. The drummer (on the photograph) is Don Poncher, aka Ming the Merciless".

Lenny and the Squigtones is a musical group composed of Michael McKean and David Lander, the two actors who played the characters Lenny and Squiggy on the television series Laverne & Shirley. The group's eponymous debut album, Lenny and the Squigtones, was released on the Casablanca label in 1979. Otherwise forgetable, the album is now a collector's item because of credited guitar work by future Spinal Tap member Nigel Tufnel (Christopher Guest). Included an early version of "Heavy Duty", which was later recorded by Spinal Tap. Also includes 'Murph', the keyboard player from The Blues Brothers.