KRR's ERIC CARR "Unfinished Business" giveaway / contest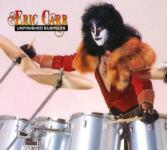 From:

Kiss Related Recordings / www.wienerworld.com
Thanks to Wienerworld Ltd., KRR is able to giveaway 2 copies of ERIC CARR "Unfinished Business".

To win a copy of ERIC CARR "Unfinished Business" all you have to do is send an email to info@kiss-related-recordings.nl with your name and your answers on the following first 2 questions.
To get a better chance, and if you know the answer, you can also answer the 3rd question .... Good luck !!

The winners will be chosen randomly on January 15, 2012.

1) Danger Danger singer Ted Poley sings lead vocals on "Just Can't Wait".
Name the title of the KISS song Danger Danger did perform live during their Japan
1992 Tour.

2) In 1987 Ace Frehley's "Frehley's Comet" was released. The album contains "Breakout",
which song is based on on a track Eric Carr and Ace Frehley wrote during KISS "The
Elder" sessions. Less people know that Ace Frehley and Eric Carr demoed a song which
is also known as "Breakout II". Name the title of that song ?

3) bonus question.
From the start of the KISS Related Recordings website may 1997, I received a lot of
help and response from KRR visitors. At the time I found out that there was a fake Eric
Carr demo circulating in the (tape-)trading circuit.
That tape contains the songs "Rock Me Slowly" and "Wet and Wild".
Actually these songs were taken from the 2nd EP (1980) of an artist who later became
an American Emmy Award winning singer, songwriter, producer, and guitarist.
What's the name of this artist/singer/songwriter ?


December 30 : Legendary Rock Interview with Gary Shea (Warrior)
From: legendaryrockinterviews.com
Gary Shea is a knockout bass player and one of the easiest guys on the planet to talk to. He's probably one of the easiest to work with as well and has had the distinction of working with some of the biggest "big name" musicians on the planet. Some were supremely professional and straightforward, such as Steve Vai and Paul Stanley and others, like Vinnie Vincent and Yngwie J. Malmsteen, are remembered as being supremely talented but difficul;t to work with. Gary Shea has headlined major venues in Alcatrazz and gotten top 40 chart action with his band New England but is a musician's musician and is more than content to live in Michigan and play music he loves just because he loves it. If you're up his way go check out one of his gigs and stick around after the show to have a quick chat with Gary. If you like music as much as he does you might be in for a long night and some amazing stories. We talked with Gary for quite a while about his career and probably barely scratched the surface.

Topics includes Paul Stanley and the NEW ENGLAND 1979 album, touring with KISS in 1979; WARRIOR (with Vinnie Vincent), Alcatrazz (Yngwie Malmsteen, Graham Bonnet).

Read the interview clicking here.


December 16 : Eric Singer to appear on OZZY OSBOURNE Tribute CD
From: Blabbermouth.net
Versailles Records has set a May 8, 2012 release date for "No More Tears: A Millennium Tribute To Ozzy Osbourne". A collection of hits and fan favorites covering every era of Ozzy's solo and BLACK SABBATH catalog, this album will — according to the label — feature the following musicians, among others:

* Vince Neil (MÖTLEY CRÜE)
* George Lynch (DOKKEN, LYNCH MOB)
* Keri Kelli (ALICE COOPER, RATT, L.A. GUNS)
* Mark Slaughter (SLAUGHTER)
* Chris Poland (MEGADETH)
* Stu Hamm (JOE SATRIANI, STEVE VAI)
* Eric Singer (KISS, BLACK SABBATH, BADLANDS, THE CULT)
* Derrick LeFevre (LILLIAN AXE)

Along with the aforementioned name artists, the label is keeping in its tradition of featuring a number of adding a limited number of cover song slots with original millennium metal bands influenced by Ozzy. Featured millennium bands will include TAKARA, LEAVING EDEN and DIRTY ROSE.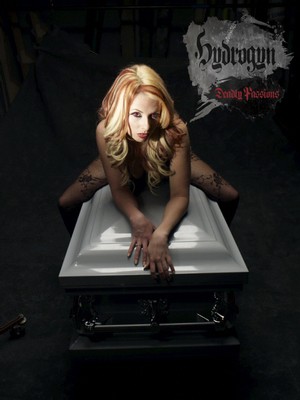 December 13 : some more KISS cover versions
From: KissFaq.com
Kentucky-based rock band Hydgrogyn have completed work on a cover of KISS' 1984 hit "Heaven's On Fire." The song will be featured on their forthcoming album, "Deadly Passions," scheduled for release on Jan. 10, 2012. Hydrogyn consists of Julie Westlake (vocals), Jeff Westlake (guitar), Joe Migs (drums), Chris Sammons (bass), and Rev. Davo Chandler (sound).

Listen to the track clicking here.

Black Veil Brides have covered KISS' "Unholy" for their new EP, "Rebels." Black Veil Brides teamed with guitarist Zakk Wylde, who supplies the solo. Listen to their version clicking here.


Purchase Black Veil Brides' version of "Unholy" at iTunes.

From: KISS Related Recordings
In related news, Czech Republic label KM Records Limited recently released a KISS Tribute album entitled "Legends Tribute" as per- formed by MISSKISS. The disc is distributed in the UK by Hoppa Ltd.
Click here for "Legends Tribute" as performed by MISSKISS details.


December 10 : Paul Stanley and Tomy Thayer live with Camp Freddy
From: KissOnline.com / PaulStanley.com
Paul Stanley, his son Evan, and Tommy Thayer were among guest musicians who performed with CAMP FREDDY last night at the band's fifth annual Christmas Celebration at The Roxy in West Hollywood, California.

CAMP FREDDY is the LA-based "jam" group featuring Dave Navarro , Billy Morrison, Matt Sorum , Donovan Leitch, and Chris Chaney.

Other guest musicians included Fred Durst (Limp Bizkit), Sebastian Bach (Skid Row), Billy Duffy (The Cult), Stephen Pearcy (RATT), Warren DeMartini (RATT), and George Lynch (Dokken).

Check out these fan-filmed clips.
- Lick It Up
- Strutter
- You Shook Me (with Evan Stanley)
- All Right Now

December 10 : Crazy Crazy Nights covered for SMIRNOFF commercial


From: KissOnline.com / KISS Related Recordings
Along with JWT, Big Foote, featuring Sun and Moon, put together a cover of Kiss' "Crazy Crazy Nights" for the latest Smirnoff campaign. Check out this cool version of "Crazy, Crazy Nights" from a recent Smirnoff's commercial clicking here.

A full length version of "Crazy Crazy Nights" (3:24) by Big Foote, featuring Sun and Moon is released November 28.
It's available for download on iTunes clicking here.

In related news, German act Gregorian recently released "Best of

1990-2010", which also features a cover version of KISS "Crazy Crazy Nights".
It seems that both versions (Big Foote and Gregorian) are inspired by the slower arrangement of Kurt Nilsen, which version appears on the 2005 album "Gods Of Thunder - A Norwegian Tribute To KISS".
Another version with a slower arrangement is recorded by Mads Björn in 2010.

For more cover versions taken from KISS "Crazy Nights" click here for details.


December 6 : Legendary Rock Interview with Bruce Kulick
From: wwww.legendaryrockinterviews.com
Bruce Kulick was recently interviewed by Legendary Rock Interviews. The extremely in-depth (and lengthy) interview spans Kulick's work in KISS, his solo career, Union, and Grand Funk Railroad, in addition to including his thoughts on various albums, projects and the late Eric Carr. An excerpt follows below..
Read the interview clicking here.